Growing up, I had two childhood goals. I wanted to teach and I wanted to write. I even kept pen and paper on the nightstand to record my dreams before they faded each morning.
However the dreams did fade. Life went on, and school, then commuting and work in New York City, pushed both teaching and writing aside.
Armed with a BS in Management and an MBA in Executive Management from St. John's University, I embarked on a career in the corporate financial services world. Work as a Human Resources Director for several international firms kept me hopping (and the travel wasn't bad, either!). During that time, I also earned an Adult Bible Studies Certificate from Moody Bible Institute.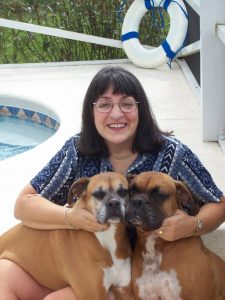 We moved from New York to Florida in 1999, and I left the corporate world behind. But don't call me retired. Now I'm enjoying a second career as an author, teacher, and speaker. I teach a weekly, interdenominational Bible Study Fellowship (BSF) class from September through May each year.  
And I write. I've written for organizations such as Focus on the Family, Christianity Today, and Haven Ministries.  I've also been published in 30 anthologies, including
25 Chicken Soup for the Soul books.
My first book, Daily Reflections on the Names of God: A Devotional, is endorsed by Kay Arthur, founder of Precept Ministries, International.
I've also co-authored two children's picture books, Do You Love Me More? and Will I See You Today?
A few more things about me…
I'm a member of  American Christian Fiction Writers (ACFW), the Christian Author's Network (CAN), and the Advanced Writers and Speakers Association (AWSA). And speaking of speakers, I love to challenge audiences with relevant, enjoyable presentations.
My wonderful hubby and I were married for 40 years before his graduation to heaven. Now, when I'm not teaching, writing, or editing, I'm playing with my 2 too-smart-for-their-own-good boxers. I'm also reading—frequently on our back patio in the warmth of the Florida sun (yes, I do use sunscreen!)—and enjoying the blessing of doing what I love most!